Sea Moss
Endocladia muricata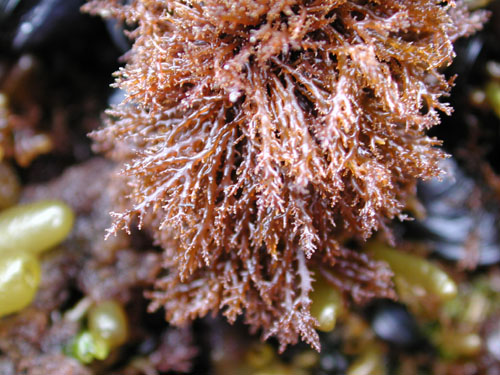 Authority:

(Endlicher) J. Agardh

North Pacific Distribution:

Aleutian Is., Alaska, to Baja California, Mexico.

Former Scientific Names:

Acanthocladia muricata, Gelidium muricatum, Gigartina muricata

Description: Thallus is rusty red to black (when dry); its wiry, cylindrical branches have spines and form small bushy tufts 3-8 cm tall (1-3 in). This perennial has isomorphic or similar-looking reproductive phases. Habitat: This species forms a band on rocks in the high to mid intertidal zone of semi-exposed to exposed habitats. Similar taxa: Gloiopeltis furcata; Caulacanthus ustulatus (not confirmed to occur in Alaska; E. muricata can develop creeping portions similar to C. ustulatus in late summer).
Click on a thumbnail to view larger version