Winged Rib
Delesseria decipiens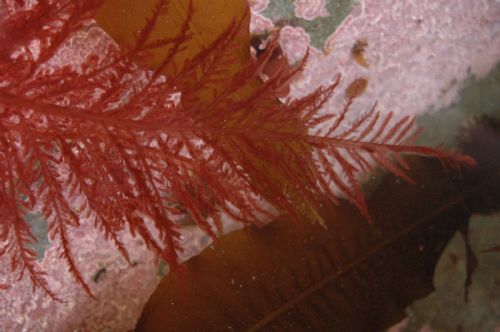 North Pacific Distribution:

Kodiak Archipelago, Alaska to San Luis Obispo County, California.

Former Scientific Names:

Apoglossum decipiens

Description: Thallus is rose red to light pink, reaching 25 cm (10 in) or more in height with a prominent midrib throughout with a delicate blade on either side of the midrib. Alternate branching along the midrib produces branches of the same morphology as the main axis, to several orders. Blade narrows basally to a short stipe and small discoidal holdfast. Habitat: This spring ephemeral occurs on rock in the low intertidal and subtidal (to 18 m) of semi-protected to semi-exposed habitats. Similar taxa: Membranoptera dimorpha.
Click on a thumbnail to view larger version