Studded Sea Balloons
Soranthera ulvoidea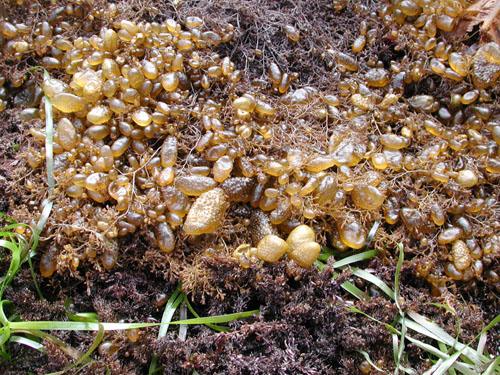 Authority:

Postels et Ruprecht

North Pacific Distribution:

Bering Sea and Aleutian Is., Alaska, to Santa Barbara, California; Commander Is., Russia.

Former Scientific Names:

Description: Thallus is a pale to olive brown sac with dark brown bumps, tapering to an inconspicuous, discoidal holdfast. The thallus ranges from 1 to 5 cm (0.4-2 in) tall and is strictly an epiphyte on species of Neorhodomela and Odonthalia. Habitat: This summer annual is found in the mid to low intertidal from protected to semi-exposed habitats. Similar taxa: young Leathesia.
Click on a thumbnail to view larger version