Cup and Saucer
Constantinea rosa-marina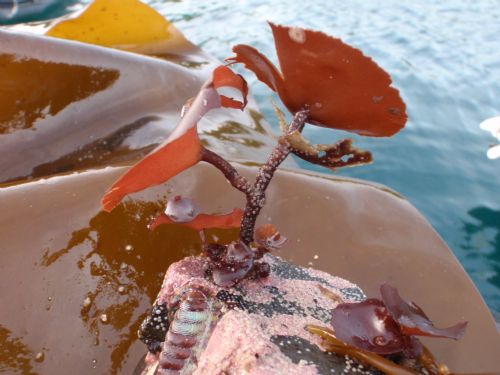 Authority:

(Gmelin) Postels et Ruprecht

North Pacific Distribution:

Bering Sea and Aleutian Is. to Southeast Alaska; Japan; Russia.

Former Scientific Names:

Fucus rosa-marina

Description: Thallus is dark red, saucer-shaped, with usually entire (not lacerated) blades less than 15 cm (6 in) diam., attached in the middle of their lower side to a branched, cylindrical stipe. Veins are inconspicuous. Thallus grows up to ~15 cm (6 in) tall. The stipe never protrudes. New blades develop each winter from the center of the previous year's blade, and the stipe between the new and old blade elongates as the new blade expands. Habitat: This perennial occurs on rock, mostly in the subtidal zone of semi-protected to semi-exposed habitats. Similar taxa: C. simplex does not undergo stipe elongation; Constantinea subulifera.
Click on a thumbnail to view larger version