Olive Green Winter Laver
Porphyra pseudolanceolata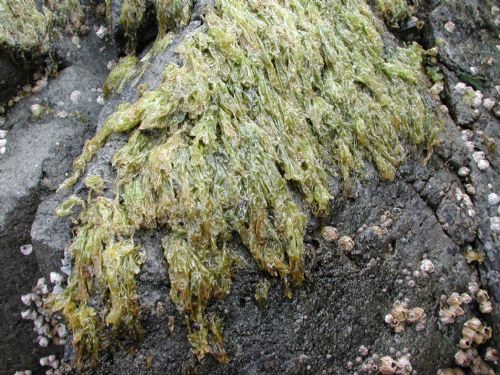 Authority:

V. Krishnamurthy

North Pacific Distribution:

Aleutian Is., Alaska, to Del Norte County, California.

Former Scientific Names:

Description: Thallus is an olive green blade, to ~ 30 cm (12 in) long but usually much shorter, one cell layer thick; lanceolate when young, becoming more rotund with age. Male cells are in whitish margins; fertilized female cells are in hieroglyph-like streaks across distal ends of separate female plants. Habitat: This species is restricted to high intertidal bedrock on exposed coasts in winter, surviving into spring or even summer at colder sites. Similar taxa: Porphyra hiberna, which looks identical, replaces this species in Sitka Sound.
Click on a thumbnail to view larger version